The Durham investigators uncovered evidence that shows Hillary Clinton's team paid operatives to "infiltrate" the Trump Tower and then President Trump's White House servers to link Trump to Russia.
This is not surprising. TGP reported on this in April 2019 based on our expert review.
Back in 2019, The Gateway Pundit reported — A review of the data pertaining to the accusations in the phony Steele dossier about a Trump-Russia Bank connection discovered the sources used is most likely the same source the FBI used to obtain a FISA warrant to investigate the Trump-Alfa Bank connection.
This nightmare for President Trump all started in June 2016. After news broke that the Democratic National Committee had been hacked, a group of prominent computer scientists went on alert. The group of individuals, led by a Hillary supporter, started snooping around the Trump Tower computers to allegedly see if these servers had also been hacked.
This group was led by Indiana University professor and staunch Hillary supporter, Jean Camp. Professor Camp, according to Circa was a staunch Hillary supporter:
A respected computer scientist who raised concerns about a possible connection between President Trump and a Russian bank is an unabashed Hillary Clinton supporter who made multiple small donations to the Democrat's presidential campaign around the time she and her colleagues surfaced the allegations.
Some techies uncovered that the Trump Tower servers began to be bombarded with the same exact invalid look-up requests that use the words "trump" and "alfa" together, which were automatically placed in the servers' log file by the server. According to the New York Times, computer logs showed that two servers at Alfa Bank sent more than 2,700 "look-up" messages to the Trump servers.
At about the same time, the FBI received a complaint from "cyberexperts" about a possible Trump-Alfa Bank connection, which led the FBI to investigate into a Trump-Alfa Bank connection. According to the New York Times:
In classified sessions in August and September of 2016, intelligence officials also briefed congressional leaders on the possibility of financial ties between Russians and people connected to Mr. Trump. They focused particular attention on what cyber experts said appeared to be a mysterious computer back channel between the Trump Organization and the Alfa Bank, which is one of Russia's biggest banks and whose owners have longstanding ties to Mr. Putin.
At about the same time that the FBI began its investigation, Christopher Steele began pushing the now-debunked claim that Trump was connected to Alfa Bank. In mid-September Steele submitted his memos, and at least one of these included the Trump-Alfa Bank connection. Steele submitted these memos to the press and to the FBI.
And now we know that Fusion GPS was pushing this bogus story to far-left Slate Magazine.
And Hillary Clinton pushed the conspiracy knowing HER TEAM was behind the bogus accusations!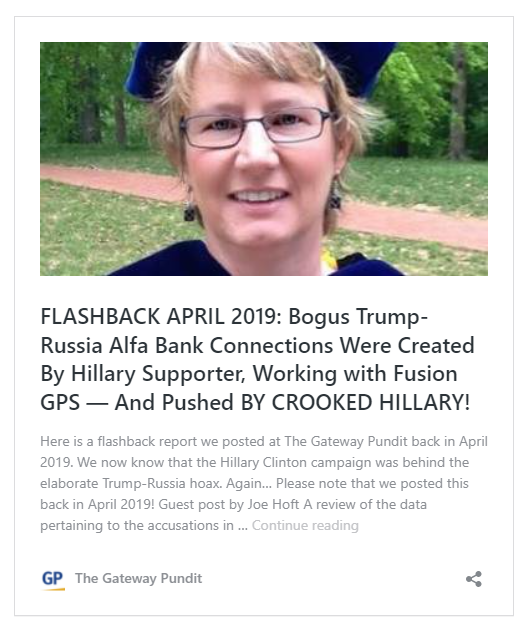 Today it was reported at FOX News and on Twitter: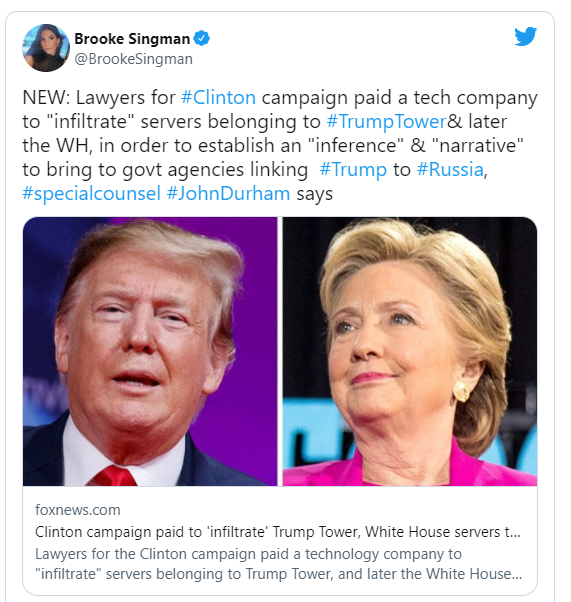 There now is evidence lawyers paid tech specialists, including university personnel to infiltrate Trump servers.
Lawyers for the Clinton campaign paid a technology company to "infiltrate" servers belonging to Trump Tower, and later the White House, in order to establish an "inference" and "narrative" to bring to government agencies linking Donald Trump to Russia, a filing from Special Counsel John Durham says.
Durham filed a motion on Feb. 11 focused on potential conflicts of interest related to the representation of former Clinton campaign lawyer Michael Sussman, who has been charged with making a false statement to a federal agent. Sussman has pleaded not guilty.
The indictment against Sussman says he told then-FBI General Counsel James Baker in September 2016, less than two months before the 2016 presidential election, that he was not doing work "for any client" when he requested and held a meeting in which he presented "purported data and 'white papers' that allegedly demonstrated a covert communications channel" between the Trump Organization and Alfa Bank, which has ties to the Kremlin.
But Durham's filing on Feb. 11, in a section titled "Factual Background," reveals that Sussman "had assembled and conveyed the allegations to the FBI on behalf of at least two specific clients, including a technology executive (Tech Executive 1) at a U.S.-based internet company (Internet Company 1) and the Clinton campaign."
…Durham's filing states that in July 2016, the tech executive worked with Sussman, a U.S. investigative firm retained by Law Firm 1 on behalf of the Clinton campaign, numerous cyber researchers and employees at multiple internet companies to "assemble the purported data and white papers."
"In connection with these efforts, Tech Executive-1 exploited his access to non-public and/or proprietary Internet data," the filing states. "Tech Executive-1 also enlisted the assistance of researchers at a U.S.-based university who were receiving and analyzing large amounts of Internet data in connection with a pending federal government cybersecurity research contract."
"Tech Executive-1 tasked these researchers to mine Internet data to establish 'an inference' and 'narrative' tying then-candidate Trump to Russia," Durham states. "In doing so, Tech Executive-1 indicated that he was seeking to please certain 'VIPs,' referring to individuals at Law Firm-1 and the Clinton campaign."