At least 149 people are dead after an outdoors Halloween event in South Korean capital Seoul turned into a stampede on Saturday night, emergency officials said.
Huge crowds at the event surged into a narrow downhill alley in a nightlife area near the Hamilton Hotel, a major party venue in Seoul. The incident trapped and crushed hundreds of people in Seoul's leisure district of Itaewon.
Emergency workers and pedestrians were seen performing first aid and CPR on people lying in the streets amid ensuing chaos.
Officials say at least 149 have died and about 150 others are injured. The fire service said most victims were teenagers and young adults.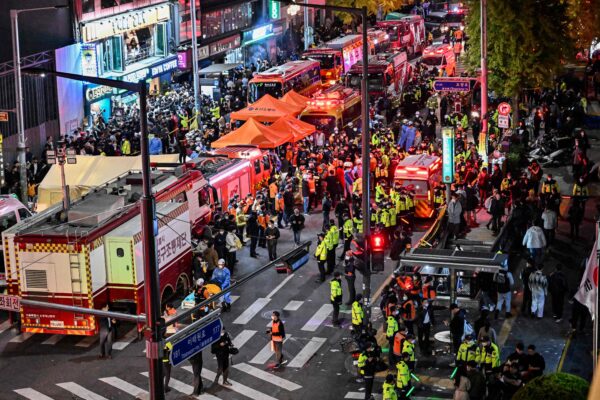 Choi Seong-beom, head of Seoul's Yongsan fire department, said all the deaths were likely from the crush in the single narrow alley, and that the death toll may increase.
He said bodies were being sent to nearby hospitals or a gym, where family members could identify them. Many of the victims were women in their 20s, Choi said.
Many of the victims were taken to the nearby Soonchunhyang University, where ambulances were seen arriving almost continuously, The Associated Press reported.
Officials said at least 19 of those injured were in critical condition and receiving emergency treatment.
More than 1,700 people from around the country—including about 520 firefighters, 1,100 police officers and 70 government workers—were deployed to the streets to respond to the disaster.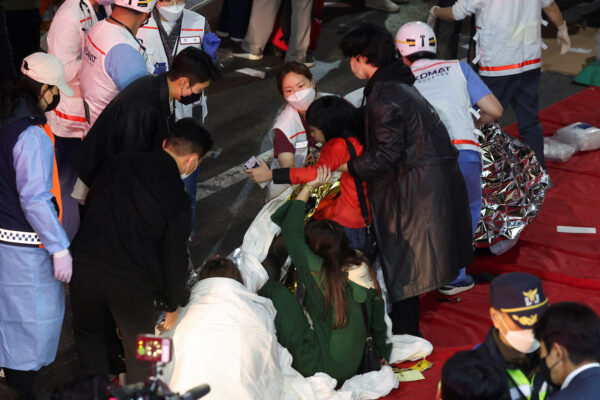 About 100,000 people had gathered in Itaewon for the Halloween event this year. Itaewon is known for its nightlife, as well as its upscale bars, clubs, and restaurants.
South Korean President Yoon Suk Yeol presided over an emergency meeting with senior aides. He ordered to set up a task force to ensure the injured receive prompt treatment, and to launch an investigation into the cause of the disaster and review the safety of the festivity sites.
Fire officials and witnesses of the incident said that people continued to pour into the already-packed downhill alley, before those at the top of the alley fell, sending people below them toppling over others.
Moon Ju-young, 21, told Reuters there were clear signs of trouble in the alleys before the incident, describing the scene as "at least more than 10 times crowded than usual."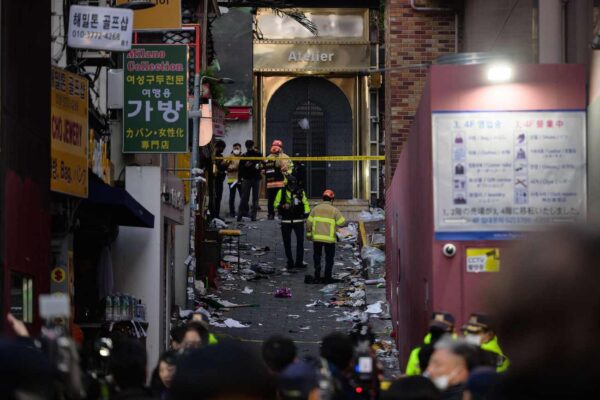 According to Hankyoreh, a Seoul-based newspaper, one survivor, surnamed Kim, described the scene of people falling on top of each other during the melee "like dominos." The survivor said they were trapped for about 1.5 hours before being rescued, with many short of breath.
Another survivor, named Lee Chang-kyu, said he saw about five to six men push others before one or two began falling, according to the newspaper.
Hwang Min-hyeok, a visitor to Itaewon, told news channel YTN it was shocking to see rows of bodies near the hotel. People wailed beside the bodies of their friends, he told the news station. Emergency workers were initially overwhelmed, leaving others to administer CPR to the injured, he noted.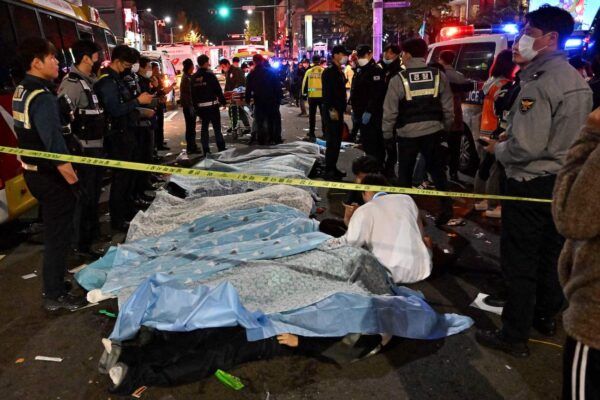 U.S. President Joe Biden and his wife sent their condolences, writing on Twitter: "We grieve with the people of the Republic of Korea and send our best wishes for a quick recovery to all those who were injured."
Jake Sullivan, the U.S. national security adviser, said on Twitter that reports of the disaster were "heartbreaking," adding that Washington "stands ready to provide the Republic of Korea with any support it needs."
Rishi Sunak, the new British Prime Minister, called the incident "horrific." He said on Twitter: "All our thoughts are with those currently responding and all South Koreans at this very distressing time."
Saturday night's stampede marked the deadliest crushing disaster in the country's history. Previously in 2005, 11 people were killed and 60 others were injured at a pop concert in Sangju.
The incident also marked the second large scale stampede in a month in Asia. On Oct. 1, police in Indonesia fired tear gas at a soccer match, causing a crush that killed 132 people as spectators attempted to flee.
The last South Korean disaster that killed hundreds involved a ferry sinking in April 2014. The death toll was 304. The victims were mostly high school students.
The Associated Press and Reuters contributed to this report.
Source: www.breakingheadlines.news